Why Rotate Tires?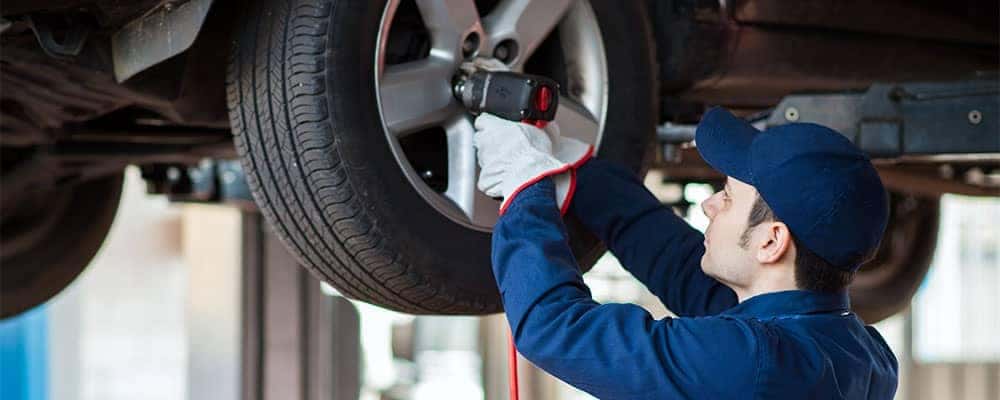 Contact Us Schedule Service Tire Care Tips
People know they need to get fluid changes and filter replacements for their vehicle, but tire rotation is something drivers often neglect. As such, it's important to understand:
Why Rotate Tires?
Why Tire Rotation is Important
How Often Tires Need to Be Rotated
Tire rotation and balance involves switching around the tires on your car to ensure each one in subject to the same level of wear. Read on to learn more.
Why Do Tires Need to Be Rotated?
In a perfect world, all your vehicle's wheels would work under the same weight and workload, but that's not what happens. Because weight and workload are distributed unevenly, the tires will wear unevenly.
Front-wheel vehicles are particularly vulnerable to this because:
The engine and transmission are usually mounted at the front of the vehicle, shifting more weight there when you brake.
Your car steers from the front, so front tires bear the brunt of cornering forces.
The wheels that produce power also show more wear over time.
Even rear-wheel-drive and four-wheel-drive vehicles suffer from uneven wear, so tire rotation is important regardless of the vehicle class you're driving. Next time you brake in Brooklyn Park or take a tight corner between Maple Grove and Minnetonka, just remember what that's doing to your tires.
Why is Tire Rotation Important?
Uneven tire wear probably doesn't sound like such a big deal, but it can lead to:
Poor balance and traction, especially across roads slick with snow or rain.
Poor performance and efficiency
More regular tire replacements
It's also important to understand that many tire manufacturers require regular rotations if you want to keep your warranty.
How Often Should Tires Be Rotated?
Your tires should generally be rotated every 3,000 to 7,500 miles, but it depends on the type of vehicle you're driving. We've put together a general guide on how often to rotate your tires, but it's best to check your owner's manual for recommended intervals. You may also need to rotate your tires more frequently if you drive aggressively.
Cornerstone Plymouth Can Handle Your Tire Rotation and Balance Needs
At Cornerstone Plymouth, our service center can take care of tire rotations quickly and easily. We even offer service plans and service specials to help you save, so contact us today to find out more.