Minneapolis Sculpture Garden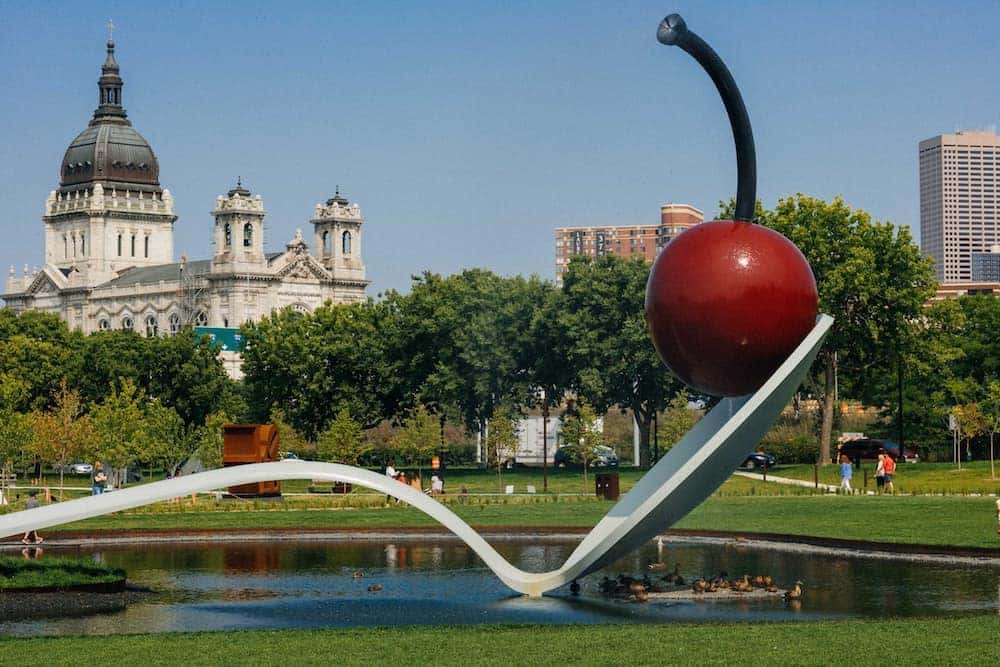 The Walker Art Center and its Minneapolis Sculpture Garden tours both provide culturally rich and relaxing things to do in Minneapolis. Just a short drive from Brooklyn Park, MN, the Sculpture Garden is located on the grounds of the Walker Art Museum and provides an opportunity for art lovers of all ages to get up close and personal with their favorite works.
Art and Artists
Founded in 1940, the Walker Art Center features a diverse range of works from both internationally renowned artists such as Andy Warhol and Yoko Ono, as well as up and coming local artists just making a name for themselves on the art scene. The ever-changing collection highlights the power of art in popular culture and its ability to influence public perception through a variety of mediums.
Events
In addition to the varied works on display, the Walker also plays host to a wide array of free and member-only events. These events, which include film screenings, live music, performance art, and free admission to select exhibits, allow visitors an opportunity to explore the impact of art and the human condition often while interacting with the artists themselves.
Hours
The Walker Art Museum is open six days a week:
Monday – Closed
Tuesday, Wednesday, Sunday – 11:00 am–5:00 pm
Thursday – 11:00 am–9:00 pm
Friday, Saturday – 11:00 am–6:00 pm
The Sculpture Garden is available daily 6:00 am – 12:00 am
Parking
Parking is available onsite in an underground garage for $5 per day. Street parking is free, but limited and local parking restrictions are strictly enforced.
Those who wish to leave their vehicle at home can hop on the bus from Maple Grove, Minnetonka, or any of the surrounding areas and connect with the Metro. Metro Transit lines coming to the museum are 4, 6, 12, and 25.
Admission
Admission for members and Teens is free while other visitors can enjoy free access Thursday nights and the First Saturday of the month. If you cannot make it at those times, Gallery admission is:
Adults $15
Seniors (62+) $13
Active Military $7.50
Students $10
Free tours of the sculpture garden are available all summer from June 23 – September 1, 2018.
Explore Minneapolis
The Minneapolis Sculpture Garden at the Walker Art Museum are just one of the family-friendly offering available in Minneapolis, MN. To learn more, check out our suggestions for the best pizza spots near Plymouth. And for a better way upgrade your ride, contact Cornerstone Plymouth today.
---
More Local Tips
Before you go in search of the perfect new or used car at Cornerstone Plymouth, you'll need to fuel up first. You can opt for a fast-food joint with a cookie-cutter menu, or you can choose one of the joints on our menu and get a belly full of hearty Midwestern fare that will give…

The Walker Art Center and its Minneapolis Sculpture Garden tours both provide culturally rich and relaxing things to do in Minneapolis. Just a short drive from Brooklyn Park, MN, the Sculpture Garden is located on the grounds of the Walker Art Museum and provides an opportunity for art lovers of all ages to get up…

Have More Questions? Minneapolis is a musical Mecca with acts ranging from solo blues performers to wild jazz ensembles and everything in between. If you're as big a fan of new bands as we are, you owe it to yourself to hit the top spots to catch the best new and established acts on the…