How Do I Take Care of My Tires?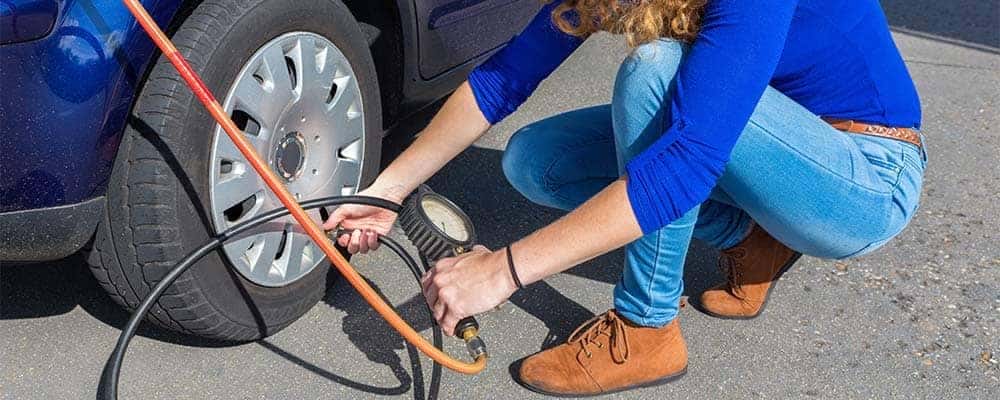 Tires are a foundational aspect of your vehicle's ability to do its job, and there some practical tips to keep your tires rolling between Minneapolis and Maple Grove for years to come.
Contact UsSchedule Service Why Rotate Your Tires?
Test Tire Tread
Visually inspecting your tires regularly will help you keep a baseline of their wear and tear, helping you to notice any signs of damage. Inspecting your tires every time you get an oil change is an easy way to remember when to check in. A practical way check your tire tread depth is the "penny test": insert a penny with Lincoln's head upside down into one of your tire's tread grooves — if you can see all of his head, then your tread is too low.
Check Your Tire Pressure
Air pressure is crucial to maintain optimal safety and performance, so refer to your vehicle's owner's manual to ensure your tires are at the optimal PSI. When the temperature drops, your tire pressure is likely to fall as well — keep an eye out for air pressure alerts, and be sure to fill up your tires quickly should you see one.
Monitor Your Vehicle's Weight
Your tires do more than just take you places — they also carry the weight of you, your passengers, and the entire weight of the car. Adding too much cargo to your vehicle may cause it to exceed the total load capacity, creating the potential for tire blowouts.
Monitor Your Speed
Driving fast works your tires hard, leaving them open to additional heat and potential damage. Rather than driving with a lead foot, give yourself enough time to arrive at your destination and drive within the speed limit.
Schedule Service at Cornerstone Plymouth
Take care of your tires at Cornerstone Plymouth near Minnetonka. Our service center can can help keep your tires in great shape, providing regular tire rotation as well as any other services you may require. Visit us today for your service needs and schedule your service appointment today!
Service Specials at Cornerstone Plymouth
More From Cornerstone Plymouth